San Diego Farm & Nursery Expo
November 8, 2017 @ 9:00 am

-

4:30 pm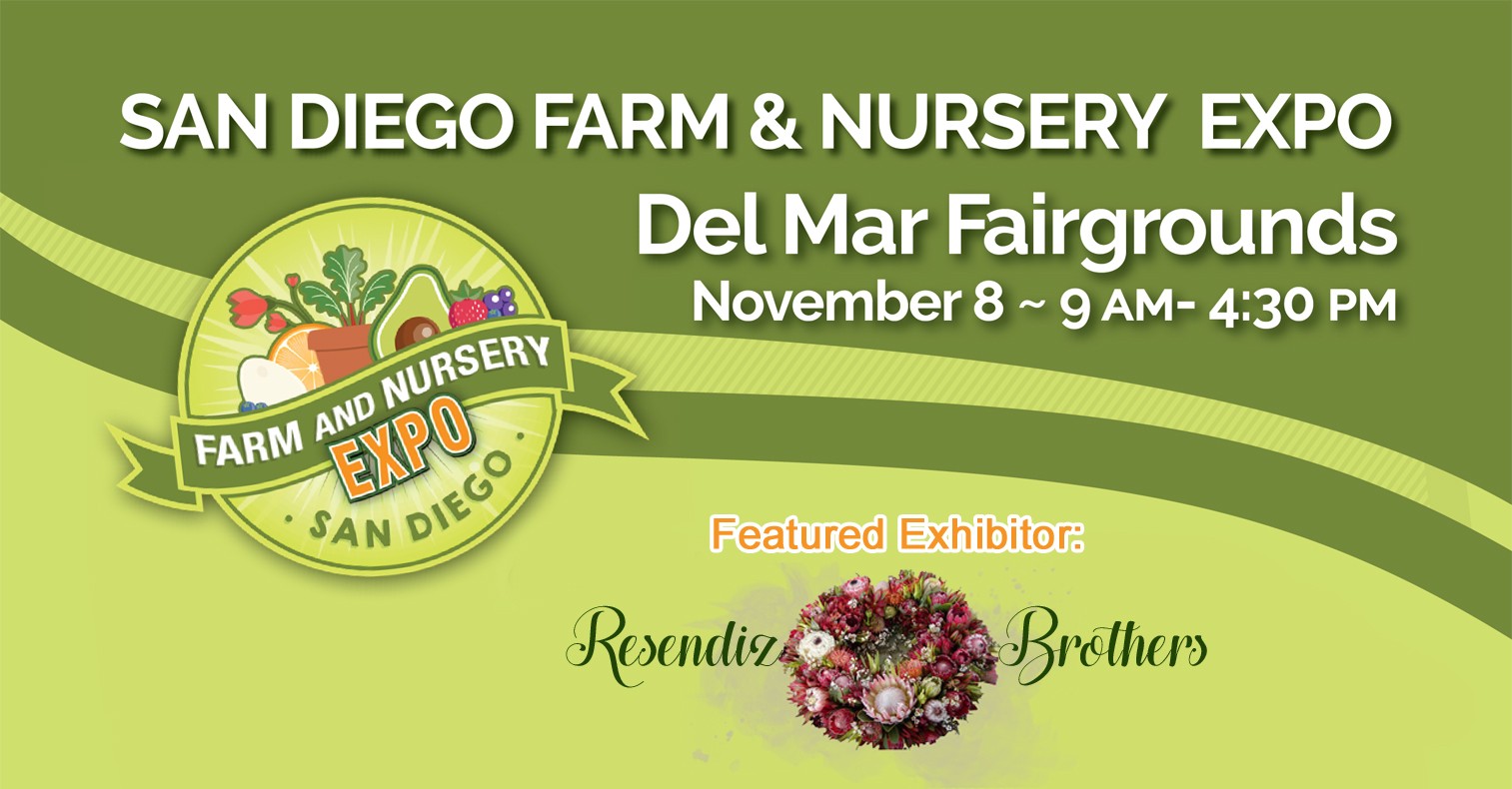 Find us at the Del Mar Fairgrounds for the San Diego Farm & Nursery Expo on November 8th. Resendiz Brothers will be on of the featured exhibitors. We will have protea plants, bouquets, books, posters, and more will be on dispay! To learn more about this event and other exhibitors visit www.sdfarmbureau.org/Expo.
Learn from experts on what to expect in Socal Ag!
9:30 am
ERIC LARSON
San Diego County Farm Bureau, Executive Director
Water : Supply Update & Runoff Regulations
10:30 am
CRAIG REGELBRUGGE
Sr. VP AmericanHort; National Co-chair, Ag Coalition for Immigration Reform
Latest on the Politics of Immigration Reform in Washington D.C.
11:30 am
CALIFORNIA WOMEN FOR AGRICULTURE – Panel
Success Stories of Women in Agriculture
12:30 pm
NEW CROPS IN SAN DIEGO – Panel
Growing Wine Grapes, Pitahaya, Coffee, Hops, & Olives in San Diego
1:30 pm
JAMES BETHKE
UC Copperative Extension, Farm Advisor
The Pests You're Battling & the Ones on the Horizon
FREE ATTENDEE PRE-REGISTRATION NOW OPEN!
www.sdfarmbureau.org/Expo
 Network with a wide variety of farmers and vendors
 Visit the Resource Center to learn about programs that may be beneficial to you and your business
 Hear from top researchers and authorities in our seminar series
Find out about the newest products, technology, and equipment upgrades for your farm or nursery