At The Protea Store, we know exotic flowers, and we are dedicated to making them a way of life for all of our customers!
Unusual botanicals and floral designs too - What began as a business focused on Proteas in 1999 has grown into a "boutique"- type flower farm offering a vast selection of the most distinctive flowers in the United States. In addition to growing amazing cut flowers and foliage, we create gift boxes, specialty wreaths, and bouquets that are unlike anything else in the United States.
We believe that by working hard to bring these new varieties of flowers and foliages to you, we'll in turn keep this wonderful business of flower farming fresh and exciting in the years to come!
Care Instructions: Cut Flower Care, Wreath Care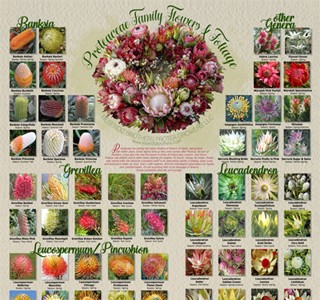 Books, Calendars, posters, greeting cards, and more! All featuring the beautiful Proteaceae family !
Save
Save
Save